---
Date: April 30th, 2022.
---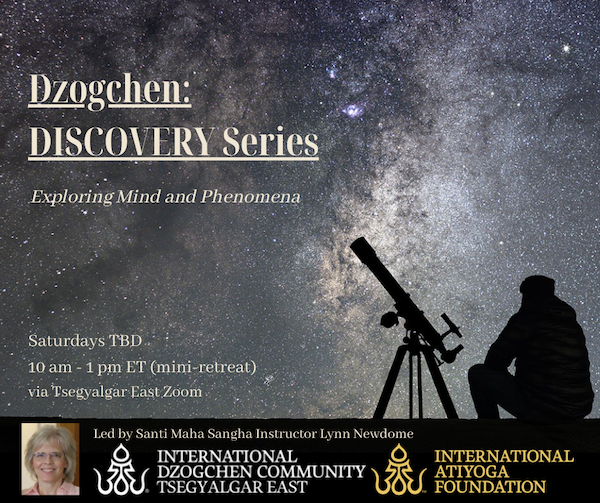 Next Mini-retreat:
What is "MIND" (Sems/Citta/Heart)?
Saturday, April 30th
10 am - 1 pm ET NYC Time
via Tsegyalgar East Zoom

These stand-alone "mini-retreats" offer provocative explorations into contemporary subjects, as related to Dzogchen and one's own experience.
Presentations are combined with contemplative exercises and group discussion to go beyond intellectual understanding and into personal insight.
Upcoming retreats include:
April 30: What is "MIND"? - How do our ideas about 'mind' limit our understanding of Dzogchen and other Buddhist teachings?

Past retreats:
Details to Join:
Registration Required. Register for these mini-retreats through their individual pages, to be posted about 2 weeks before each course date.
Audience: Open to everyone, regardless of meditation experience
When: 10am - 1pm with break. Check your time zone
Where: On Zoom. Zoom link will be sent automatically to registered participants. *Please have camera on to participate and connect with each other in these sessions
Course Retreat: $20-$40 Suggested per class.
- - - - -
Santi Maha Sangha Instructor Lynn Newdome has studied and practiced Dzogchen with Chogyal Namkhai Norbu since 1999. Prior to that, she trained for 25 years in the Mahamudra's nine-yanas approach of Tibet's Kagyu lineage.

To receive announcements and updates on these and upcoming programs please sign-up: Public Program Mailing List
---