Santi Maha Sangha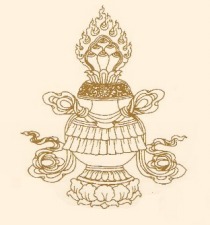 Santi Maha Sangha (SMS) is a course of study and practice in nine levels created by Chögyal Namkhai Norbu in 1994. The aim of SMS, which in the ancient language of Oddiyana means "Dzogchen Community", is to guarantee the continuation of the Dzogchen teachings as they were originally transmitted by Garab Dorje, and as the Master transmitted them for more than forty years within the Dzogchen Community.
After the "Base" level, whose contents are presented in The Precious Vase, there are three levels dedicated to Semde, three to Longde and the final three to Mennagde or Upadesha. Practitioners interested in taking the Base exam studied extensively and practiced according to the instructions in The Precious Vase. There are various opportunities such as courses and study groups at local centers worldwide. Please visit the Master Calendar or Local Center Events calendar for detailed information.
Practitioners engaged in karma yoga (volunteer work for the Community) in the year prior to the examination. This was not a last minute requirement but reflected one's ongoing commitment to collaborate with one's vajra sisters and brothers. Likewise practitioners had to be members of the Community the year prior to the examination.
To learn about Karma Yoga opportunities at Tsegyalgar East please contact the Gakyil at: gakyil@tsegyalgar.org or your nearest local Dzogchen Community Center.
To participate in Karma Yoga from afar please contact the Blue Gakyil at: bluegakyil@tsegyalgar.org.
Local authorized Santi Maha Sangha instructors include Mariano Gil (Base), Michael Katz (Base), Steven Landsberg (Base), Lynn Newdome (Base).
Steven Landsberg is the SMS coordinator for Tsegyalgar. You can reach Steven by email at: slandsberg@ragascape.com
For information about exams and documentations please visit:
http://dzogchencommunity.org/santi-maha-sangha/
Please note that SMS exams are not taking place at this time.