Vajra Dance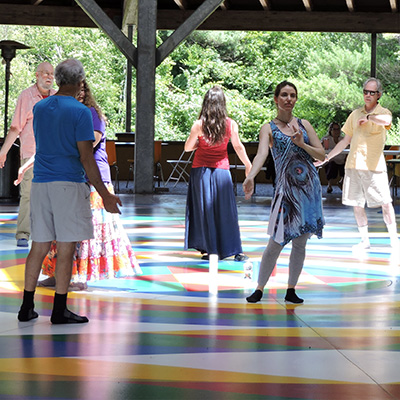 In the Dzogchen Teachings, sound and movement are very important because they are the means to integrate oneself into the state of contemplation. Vajra Dance is principally a practice to harmonize the energy of the individual. If one has a more profound knowledge of the meaning of the Dance, it becomes a method for integrating the three existences of body, voice and mind into the knowledge of the state of contemplation. This integration is one of the most important aims of a Dzogchen practitioner.
There are four different Vajra Dances which can be practiced separately or combined together.
Vajra Dances are practiced on a mandala which represents the correspondence between the internal dimension of the individual and the outer dimension of the world. To learn these dances, one should attend a course led by an authorized instructor of the International Dzogchen Community.
Since 2011, the Dance of the Vajra has been associated with the CID, the International Dance Council, founded in 1973 by UNESCO. For detailed information on Vajra Dance, please visit the International Dzogchen Community Vajra Dance website at vajradance.net.
YouTube Video: 360 Degree video of the Dance of the Vajra for 4 screens
YouTube Video: The Vajra Dance That Benefits Beings - Khandroling 2014
YouTube Video: The Vajra Dance That Benefits Beings (also knows as the Dance of the Six Spaces or the Dance of the Six Liberations)
Quiets the Mind and Opens the Heart: Vajra Dance at Tsegyalgar in Conway from Taylor Haney View on Vimeo. This film was originally published online for Pioneer Valley Soundscapes, a course at Amherst College that documents communities and sounds in the Pioneer Valley.
Tsegyalgar East holds weekly Vajra Dance practice sessions year-round in the Tsegyalgar East Gonpa in Conway, Massachusetts, and on Khandroling during the spring, summer and fall, and also beginning and advanced Vajra Dance courses led by authorized Vajra Dance instructors. For more information please visit the Tsegyalgar East Events Calendar.