Khaita Joyful Dances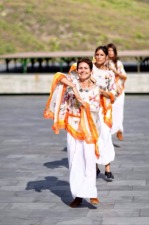 In the last two years, Chögyal Namkhai Norbu has dedicated a long time collecting and transcribing modern Tibetan songs, and encouraged us to learn modern Tibetan dance choreographies as well as creating new ones. Written by young Tibetan songwriters, with love for their own country, these songs and dances are a joyful way to celebrate the Tibetan cultural heritage, which is today under risk of extinction.
In addition to supporting Tibetan culture, through these activities the people of the Dzogchen Community have discovered a pleasant way of spending time together, dissolving tensions and calming the mind.
Please see the Tsegyalgar East weekly practice calendar for Khaita dance/practice sessions.
Download Khaita Dance material
Khaita Joyful Dances, tutorial Videos are now available in the Shang Shung Foundation webstore: Learn More
Khaita - Harmony In The Space on youTube
Khaita Joyful Dances on Facebook
---
Upcoming Events
View Events Here: Shang Shung Institute of America Khaita Events