Accommodations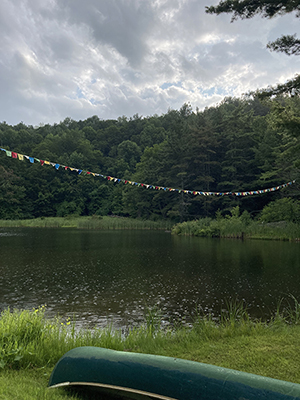 Tsegyalgar is located in the forested and hilly "West County" area of Franklin County in Western Massachusetts. It is a rural and agricultural place, with a long tradition of hospitality to retreatants and others seeking peace and the beauty of nature.
Below, please find a short guide to available accommodations.
For retreat accommodations at Tsegyalgar East and Khandroling please see the section below or click here.
Private Accommodations
Please contact the hosts directly and make your own reservations and payment plans unless otherwise instructed. For the least expensive lodging, we recommend the campgrounds you can find in the section called Retreat Centers & Camping. This section also includes several accommodations that can house many Tsegyalgar retreatants, with shared rooms and bathrooms.
The Private & Group Housing Options link comprises information about the Gar's dormitory, at the Schoolhouse in Conway, and a number of establishments belonging to Tsegyalgar East community members, as well as a few offerings from some of our hilltown neighbors who welcome guests into their homes during retreats.
There are charming lodgings choices listed in Bed & Breakfasts. Each one is special, and their listings will indicate if pets or smoking are allowed, along with other important details.
Under Inns & Motels you can find a range of options that include small locally owned motels along the Deerfield River in Shelburne Falls and Charlemont. There are also chain motels at the highway interchanges.