Tsegyalgar House at Dzamling Gar, Tenerife — Spain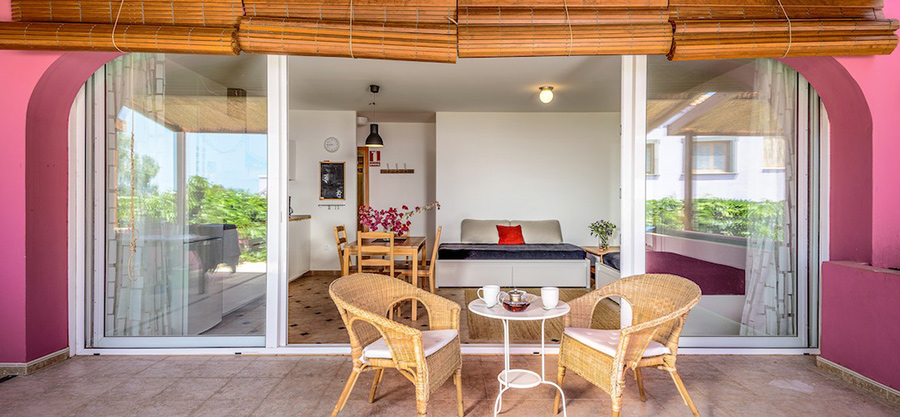 Our Dzaming Gar Tsegyalgar House contains 4 apartments on the 1st floor (2 private apartments, 2 private rooms and 3 dorm beds) and 1 apartment on the 2nd top floor (2 private bedrooms). Each apartment has access to a private sunny terrace. The house has a garden and access to the main swimming pool. All apartments are equipped with a washing machine, dishes, linens and towels. The house provided for our activities in the Dzamling Gar is shared together with Tsegyalgar West. You can view our apartments HERE.
---
Make your CONTRIBUTION in USD:

---
How do I reserve?
Any interested member of the International Dzogchen Community is welcome to make an application to reserve accommodation in Dzamling Gar by communicating to the Gar where they have established membership.
Requests to stay in the house should be addressed only to Tsegyalgar Booking Manager at: dzamling.house@tsegyalgar.org and will be considered in order of arrival: first request, first served basis.
To inquire & reserve a space please fill In our Application Form.
Who can reside at Dzaming Gar Tsegyalgar House?
Our Dzamling Gar House accommodation is reserved to Members of the Dzogchen Community. A current year paid membership is a requirement.
How long I can stay at Dzamling Gar House?
Minimum stay is one (1 week) and maximum thirty (30) days. For longer stay please email stating reasons: dzamling.house@tsegyalgar.org
View our Dzamling Gar House accommodation options HERE.
Reservations & Contribution contact Tsegyalgar House Manager:
dzamling.house@tsegyalgar.org
What it means to reside in Dzamling Gar House?
www.dzamlinggar.net/en/residing