---
Date: April 30th, 2022.
Time: 10:00 AM to 1:00 PM
---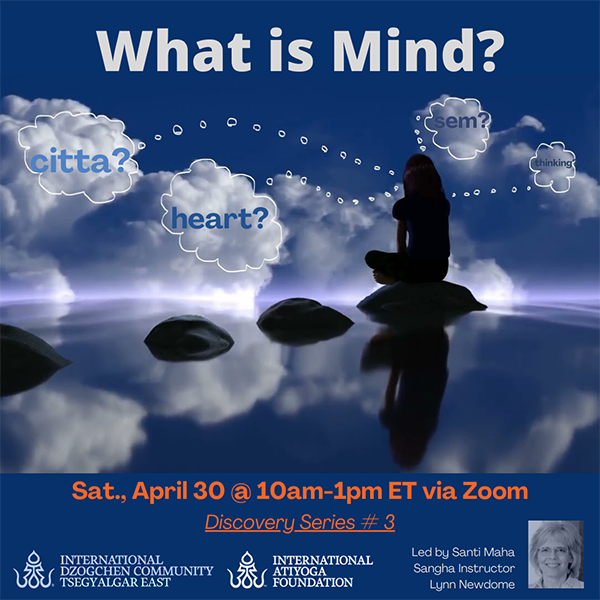 Saturday April 30th 10am-1pm ET NYC Time
via Zoom videoconference
This mini-retreat will investigate how our concepts of 'mind' effect its original meaning through:
Discussion of cultural and scientific definitions
Translators' explanations of Tibetan and Sanskrit words for 'mind'
Guided practices to discover what mind is (or isn't) including:

Shiné/Shamatha - Meditation of Body, Voice and Mind
Lhagthong/Vipashyana - Presence in Observing the Mind
Broadening our awareness, we can move beyond limitations into a more direct experience of mind.
This mini-retreat will be led by Tsegyalgar East's authorized Santi Maha Sangha instructor Lynn Newdome, who has studied and practiced Dzogchen, Mahamudra and Sutra for over 40 years.
Details to Join: REGISTER HERE
Audience: Open to everyone, regardless of meditation experience
When: 10am - 1pm with break. Check your time zone
Where: On Zoom. Zoom link will be included in your registration confirmation e-mail. A reminder will be sent the night prior to all registrants.
*Participants must join with video, so that this mini retreat feels live and in-person.
Course donation $20-$40
DONATE >> This mini retreat is by donation. We appreciate your offering to support Tsegyalgar East
---