Khandroling Paper Cooperative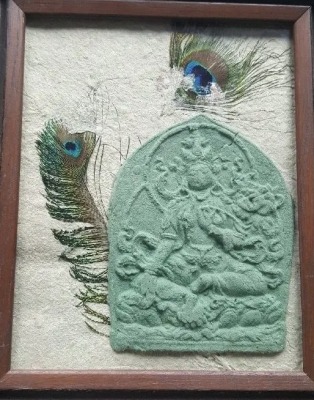 Handmade Paper and the Fiber Arts
Our studio is located in the Yellow Schoolhouse, 18 Schoolhouse Road, Conway, MA at Tsegyalgar East.
To make an appointment to visit or take part in an open studio, contact Amanda Pollock at: amandamaze13@gmail.com
Announcements From the Khandroling Paper Cooperative
We are very excited to have launched our new website, to learn more and to view upcoming events visit us at:
https://khandrolingpapercooperative.org/
What is Khandroling Paper Cooperative?
Khandroling Paper Cooperative is a Dzogchen Community based project approved by our Master, Choegyal Namkahi Norbu that seeks to create handmade paper from native fibers and recycled sacred texts including The Mirror, International Newspaper of the Dzogchen Community. The purpose of the cooperative is to provide revenue to community projects such as Khandroling, Shang Shung Institute USA, and low-income member practitioners who sell their handmade paper products. The cooperative also seeks to create a bridge for local people to connect to the Dzogchen teachings and Tibetan arts through public educational workshops and information about Khandroling's sustainable practices as they develop in the future.
History of Khandroling Paper Cooperative
In February 2012, a few of us at Tsegyalgar East began experimenting in the basement of the yellow schoolhouse with low-tech techniques to make hand made paper. Since then we have conducted workshops, open studios, a group show and numerous demonstrations. Our efforts have been met with enthusiasm and strong encouragement including Rinpoche who remarked when asked if we could create a Khandroling Paper Cooperative: "The project you are proposing seems very interesting. I think it will be successful and become very useful for all our Dzogchen Community."
Papermaking is an ancient art that sustains many cultures across the globe. We hope that it can also sustain our modest efforts to develop a cooperative with our most sacred land, Khandroling, by growing and harvesting native plants and flowers to transform into beautiful paper. Among products we are working to develop are paper-clay for traditional Tsa-Tsa making, Western style art papers and books, traditional Tibetan protective doorway and other specialized mantras in gold or silver leaf calligraphy on papers prepared with sacred substances.