---
Dates: Starts on October 9th, 2021 and occurs every week on Saturdays until November 20th, 2021
Time: 10:30 AM to 12:00 PM
---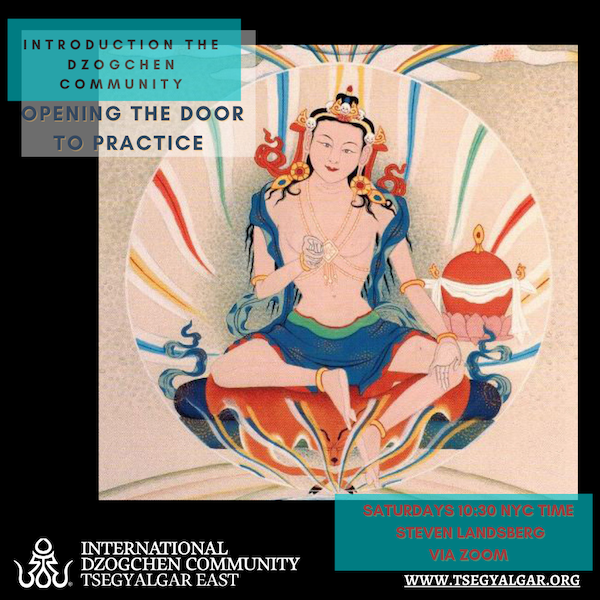 Last day Saturday, Nov 20th
10:30am - 12:00pm EST - NYC time **
via Zoom
Will continue with Short Tun and Ganapuja.
With simultaneous interpretation into Portuguese.
** Be sure to check your correct time! https://www.worldtimebuddy.com/
If you are continuing in the course and would like to make an additional offering, we would be most grateful. If you cannot use Paypal due to country restrictions, our bank wire info is here. Please indicate course in "notes."
Thank you!!
---
Opening the Door to Practice - Taught by Santi Maha Sangha Instructor Steven Landsberg. Introduction to the Dzogchen Community practices. Sign up on mailing list for updates.
Please prepare to attend entire course, if you're new to the Dzogchen Community.
Suggested Course Fee: $140 for entire course. Everyone welcome regardless of ability to pay.
DONATE NOW
If you cannot use Paypal due to country restrictions, our bank wire info is here
Recordings: Will be sent out when available
Will be e-mailed to everyone signed up the day prior to the class. Or access here (log-in and password required).
Join authorized Santi Maha Sangha instructor Steven Landsberg for this month-long course, now continuing into November. You will have the opportunity to continue in certain practices following this course. Recording will be made available for those who have signed up for the course.
It is required that all participants have their camera turned on, like an in-person course. If you do have a camera on your device, please consider getting a USB camera in time for the course. Many thanks!
Audience: This class is geared towards practitioners seriously interested in receiving Dzogchen transmission when available or for current students of Chögyal Namkhai Norbu interested in getting more acquainted with practices from a fabulous authorized instructor!
Subjects to be covered: GuruYoga, Refuge and Bodhichitta, Ganapuja.
Book list (UPDATED): The following books are now available via the Shang Shung Bookstore -Online. The restricted books available to members of the International Dzogchen Community to supplement this class without requiring transmission.
Steven Landsberg went to India in 1967 and spent almost ten years there studying Indian classical music and Tibetan Buddhism. After returning to the United States, he had the fortunate opportunity to meet Chögyal Namkhai Norbu and be introduced to the view and practise of Dzogchen. Steven immersed himself in the Santi Maha Sangha program which Rinpoche started in the 1990s and became an active participant in the establishment of Tashi Gar Norte in 2002. He served on their Gakyil or Board from 2008-2013. Rinpoche authorized him to teach in 2010 and he has been travelling throughout South America and Europe giving courses on the Santi Maha Sangha base during the last eight years, and giving public courses on mindful presence. He is currently serving as the president of the International Dzogchen Community.
With gratitude,
Tsegyalgar East Gakyil
For questions contact: bluegakyil@tsegyalgar.org
---