---
Date: June 27th, 2019.
---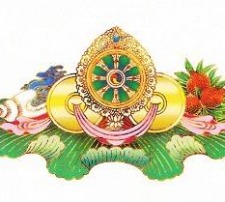 ---
Date: Thursday, June, 27, 2019
Location: Schoolhouse Gönpa and via **Tsegyalgar East Webcast**
7:00pm (ET) - Ganapuja
---
Please join the Ganapuja practice in person at the Tsegyalgar East Gönpa or via webcast:
Webcast Link: http://webcast.dzogchen.net/index.php?id=tsegyalgar-html5
Password: TORMA (all capital letters)
Check your time: https://www.worldtimebuddy.com/
Stay on the Tsegyalgar East webcast page, for both computer and mobile devices.
Don't click on the live stream & mobile stream link at the top of the page.

Troubleshooting Notes:
If your computer doesn't connect to the webcast try your cell phone.
Web Browsers: When using Chrome, if the webcast hasn't started, you get the feedback that it is offline - on Firefox you just get an empty screen so you don't know if it hasn't started or if there are technical difficulties
Send us your feedback: email bluegakyil@tsegyalgar.org, let us know that you participated in the webcast or if you had any problems connecting.
---
Help us to continue and improve this service by supporting it with a donation:
Tsegyalgar East Webcast Donation
---
The following resources are available at the Shang Shung USA Bookstore:*
*Reserved items are materials intended for the Dzogchen Community. In order to purchase this item one must be a current member of the Dzogchen Community, and must have received Transmission from Chogyal Namkhai Norbu.
**Please allow 1-5 days to receive your download link -- we generate these manually, and thus need to be in the office to send them to you. We'll get them to you as soon as possible!
---