---
Date: April 9th, 2022, including 04/10/22.
Time: 11:00 AM to 4:00 PM
---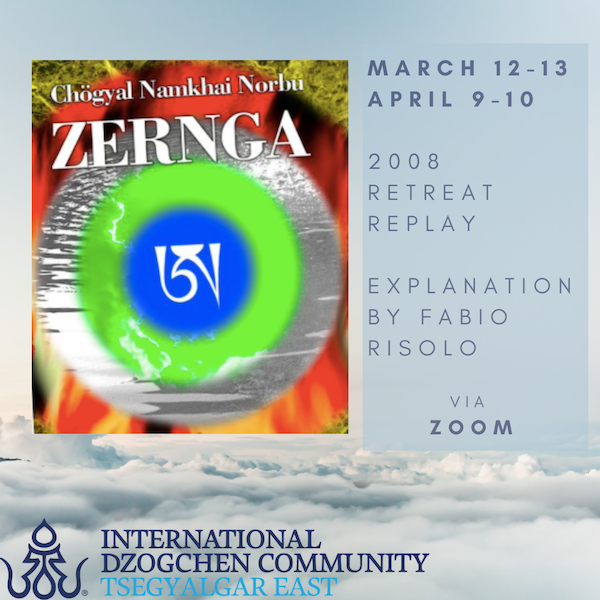 Chögyal Namkhai Norbu webcast replay from 2008
with instruction by Fabio Risolo, SMS instructor
Registration Closed
Course open to members of International Dzogchen Community
This course will be in English only.
Schedule:
Saturday and Sunday, March 12-13*
11am -1pm NYC - Chögyal Namkhai Norbu Retreat Replay
2pm - 4pm NYC - Fabio Risolo Teaching and Explanation of Elements 1-2
**Daylight Savings Time begins Sunday March 13th in USA only**
Check Your Time Zone
Saturday and Sunday, April 9-10
11am- 1pm NYC - Chögyal Namkhai Norbu Retreat Replay
2pm - 4pm NYC - Fabio Risolo Teaching and Explanation of Elements 3-5
In this course SMS instructor Fabio Risolo will offer general explanations about what the practice of contemplation, the non duality of Shiné and Lhagthong, in the context of the Dzogchen Semde. He will then explain Zer-nga and practice according to the Master's instruction.
We will be incorporating Chögyal Namkhai Norbu's Retreat from 2008 in Lima on the subject.
Course donation $150. If you have ability to donate more, this will help sponsor others who are unable. If you are unable to donate suggested amount, you are welcome to offer what is possible for you. No one turned away.
Important: Zoom link will be emailed to you upon registration. We will send a reminder the night before the event.
Plan to attend the entire retreat or listen to recording.
Recordings of Fabio's instruction portion will be sent to all registered after each weekend. If you are not able to attend entire retreat but would like recordings, please register to receive notifications. We are not able to provide recordings of Rinpoche's retreat replay.
Through Zer-nga, or Five Principal Points, a practitioner can bring about the reintegration of the material level into the wisdom level. Zer-nga is a method of working with the five elements one by one in order to realize them in their natural condition. Helps us to:
As Rinpoche says, "It is considered as part of a secondary practice of Tregchöd. If you are really interested in Thödgal, you should, to some degree, be a master of these things. Otherwise it will not work. It will remain theoretical. With this general idea of the principle behind this method, you should now know why Zer-nga is considered to be very important at all levels. It also helps you to overcome your attachment to the physical body, increase your clarity, and refresh your practice if it has become stale."
---
Fabio Risolo was born in Italy and holds a degree in Philosophy from the University of Naples, and he has taught both at the high school and university levels. Fabio became a student of the Tibetan Master Chögyal Namkhai Norbu in 1999, and has actively practiced and followed the Dzogchen Teachings since that time.
Fabio became an authorized Santi Maha Sangha (SMS) Base Level instructor in 2004 and a First Level SMS Instructor in 2009. He has led numerous courses in Italy and throughout Europe.
Fabio Risolo is also the editor of three teaching volumes of Chögyal Namkhai Norbu: Guruyoga (2011); Shine and Lhagthong in Dzogchen Teaching (2013); and A small glossary for the Dzogchen Community (2012).
Resources - Must be a member with transmission to purchase:
---