---
Date: February 2nd-5th, 2019.
---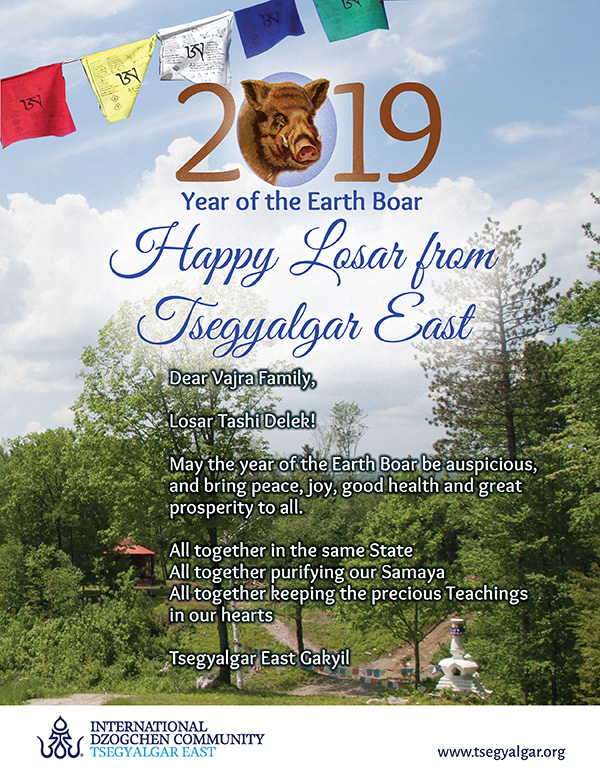 ---
---
Join us this year for Losar 2019, Year of the Earth Boar
Date: Saturday, February 2 through Tuesday, February 5 2019
Location: Tsegyalgar East Schoolhouse Gönpa in Conway, MA
Read about Losar the Tibetan New Year by Dr. Phuntsog Wangmo
**RSVP to bluegakyil@tsegyalgar.org by February 1, if you plan to attend Divination Soup gathering on Sunday, February 3 (see schedule below). Please Donate toward purchase of soup ingredients.**
Saturday, February 2, 2019
10:00am-12:00pm (noon) and 2:00pm-4:00pm:
The Vajra Dance that Benefits Beings with authorized Vajra Dance instructor Ed Hayes
Review and practice
Suggested Donation: $30/day or $20/session Pay Online
Sunday, February 3, 2019
9:30am-10:30am: Collective Practice

**

Webcast

**

11:00am-12:00pm: Vajra Dance Tun
12:00pm: Tsegyalgar East Schoolhouse Karma Yoga Cleaning, Conway, MA
2:00pm: Divination Soup preparation (participation is welcome)
5:00pm: Small Fire Puja for burning old Lungta flags, old Namkhas and Kyped-pa Zhi-dan (colorful shirts and clothing items with protection mantras for the year)
6:00pm: "Gu-Thug" Divination Soup
Please RSVP to

bluegakyil@tsegyalgar.org

by February 1, if you plan to attend Divination Soup gathering and eat dumplings. Please Donate toward purchase of soup ingredients.
Monday, February 4, 2019
5:30pm-6:30pm: Vajra Dance Tun
7:00pm: New Moon Ganapuja with Invocation of the Lamp (Marme Monlam) and Lungta potentiation

**

Webcast

**
February 5, 2019 Losar - Year of Earth Boar
9:00am: Long Life Mandarava Practice; followed by breakfast

**

Webcast

**

5:00pm-6:00pm: Khaita Joyful Tibetan Dances (beginner level)
6:00pm: Potluck dinner, Pagchen and Game of Liberation
---
**The Ganapuja and Mandarava Practice will be webcast via the Tsegyalgar East Webcast Channel.**
Webcast Link: http://webcast.dzogchen.net/index.php?id=tsegyalgar-html5
Password: TORMA (all capital letters)
Stay on the Tsegyalgar East webcast page, for both computer and mobile devices.
Don't click on the live stream & mobile stream link at the top of the page.

Troubleshooting Notes:
If your computer doesn't connect to the webcast try your cell phone.
Web Browsers: When using Chrome, if the webcast hasn't started, you get the feedback that it is offline - on Firefox you just get an empty screen so you don't know if it hasn't started or if there are technical difficulties
Send us your feedback: email bluegakyil@tsegyalgar.org, let us know that you participated in the webcast or if you had any problems connecting.
---
The following resources are available at the Shang Shung USA Bookstore:*
*Reserved items are materials intended for the Dzogchen Community. In order to purchase this item one must be a current member of the Dzogchen Community, and must have received Transmission from Chogyal Namkhai Norbu.
**Please allow 1-5 days to receive your download link -- we generate these manually, and thus need to be in the office to send them to you. We'll get them to you as soon as possible!
---