---
Date: October 24th-25th, 2020.
---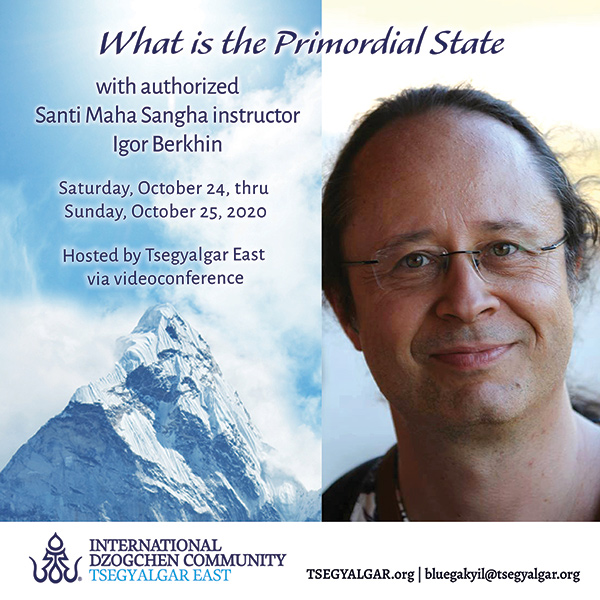 ---
---
Dates: Saturday, October 24, through Sunday, October 25, 2020
Time: 11:00am-2:00pm (ET - New York City Time)
via Zoom videoconference
Open to all who have transmission, and to those who are deeply interested and have a serious commitment to receive transmission.
This course will be taught in English.
The videoconference link will be emailed one day prior to the retreat.
Check your time zone: https://www.timeanddate.com/worldclock/converter.html
Cost: $75/Complete Course - Contact bluegakyil@tsegyalgar.org if you want to attend on a per session basis.
We ask that all participants register for courses/practice retreats regardless if online connections are shared.
If you are an IDC member and need financial assistance please contact bluegakyil@tsegyalgar.org. No one will be turned away thanks to the principle of sponsorship.
---
Support Tsegyalgar East, or your local Gar or Ling, by joining or rejoining the International Dzogchen Community (IDC) in 2020. Your membership benefits your Gar/Ling of choice, and enables you to support our global community as you participate in online weekly programs/courses/practice retreats.
Please consider supporting the Tsegyalgar East Sponsorship Program.
With gratitude,
Tsegyalgar East Gakyil
---
What is the primordial state: There are different ways to explain the primordial state such as primordial purity and self-perfection or the three primordial wisdoms of essence, nature, and energy. These explanations are not an abstract theory but indicate in a very concrete and practical way essential aspects of our condition that should be clearly recognized.
Bio:
Igor Berkhin was born in the Soviet Union in 1968, and has been a student of meditative practices since the 1980s. He met Chögyal Namkhai Norbu in 1996, and became his Russian translator for many retreats in Russia, Ukraine and other countries, starting in 1998.
Igor Berkhin is an authorized Santi Maha Sangha (SMS) instructor for the Base Level, Level 1, and Level 2.
---
Shang Shung USA Bookstore Resources:
*Please allow 1-5 days to receive your download link -- we generate these manually, and thus need to be in the office to send them to you. We'll get them to you as soon as possible!
---