---
Date: October 8th-12th, 2020.
---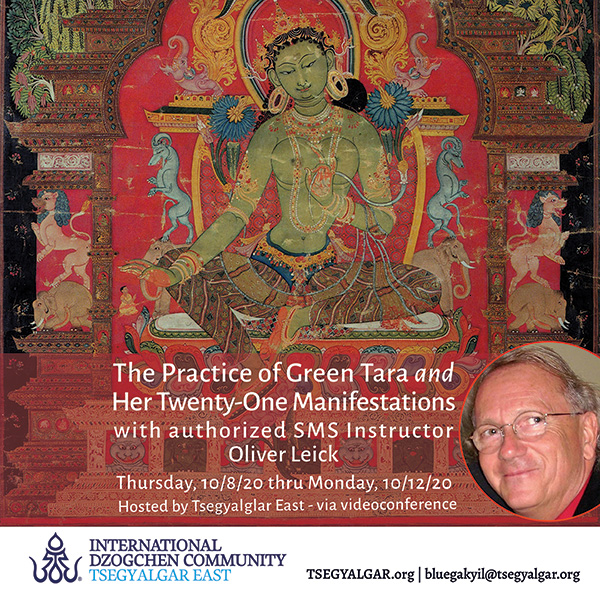 ---
---
Date: Thursday, October 8 through Monday, October 12, 2020
via Zoom videoconference
Thursday, Friday & Monday: 1:30pm-3:30pm;
Saturday & Sunday: 9:00am-11:00am; 1:00pm-3:00pm (Eastern Time / NYC)
Check your timezone: https://www.timeanddate.com/worldclock/converter.html
During the seven practice retreat sessions, Oliver Leick will explain the various phases of Tara practice, including the different aspects and functions of the 21 manifestations of Tara, and lead Tara practice.
This retreat is open to IDC members who have received the lung of Dzogchen transmission from Chögyal Namkai Norbu.
Cost: $150/complete course - Contact bluegakyil@tsegyalgar.org if you want to attend on a per session basis.
REGISTER/PAY ONLINE
---
Support Tsegyalgar East, or your local Gar or Ling, by joining or rejoining the International Dzogchen Community (IDC) in 2020. Your membership benefits your Gar/Ling of choice, and enables you to support our global community as you participate in online weekly programs/courses/practice retreats.
Please consider supporting the Tsegyalgar East Sponsorship Program.
With gratitude,
Tsegyalgar East Gakyil
---
The Practice of Green Tara and Her Twenty-One Manifestations
The practice of Green Tara is widespread among all schools and traditions of Tibetan Buddhism. The specific practice used within the international Dzogchen Community is based on a terma of Adzom Drugpa, and uses application methods from Yogatantra and Anuyoga.
Tara embodies the compassion, the energy and the wisdom of all realized beings. She is considered to be the mother of all Buddhas, and she personifies the perfection of wisdom. As a manifestation of the pure state of the air element, Tara is famous for her capacity of acting quickly and for granting us salvation when we are in great difficulty.
Oliver Leick has been a student of Chögyal Namkhai Norbu's since 1977. Oliver is the Director of the International Shang Shung Institute, and a member of the Board of Directors of the International Atiyoga Foundation. In 2002, Oliver Leick became an authorized first level Yantra Yoga instructor, and in 2010 he also became an authorized Santi Maha Sangha (SMS) Base instructor. Oliver has led more than 130 seminars, courses and public talks in different countries all over the world.
---
A text-file of a book on Tara compiled by Oliver Leick will be the base of Oliver's explanation. As decided by the Namkhai family this text will be available exclusively for retreat participants. One may obtain this text for a donation to the Ka-Ter project. If you would like to order the file pleas email bluegakyil@tsegyalar.org.
Shang Shung USA Bookstore Resourses*
*Reserved items are materials intended for the Dzogchen Community. In order to purchase this item one must be a current member of the Dzogchen Community, and must have received Transmission from Chogyal Namkhai Norbu.
**Please allow 1-5 days to receive your download link -- we generate these manually, and thus need to be in the office to send them to you. We'll get them to you as soon as possible!
---