---
Date: July 8th-15th, 2022.
---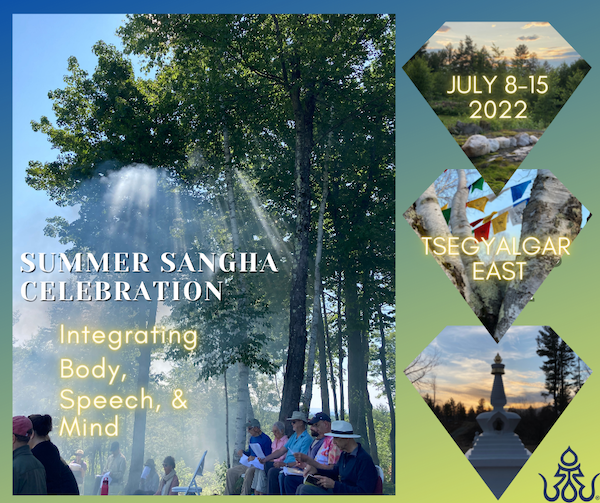 ---
On the 40th Anniversary of Rinpoche's Teaching in Conway, MA:
Integrating Body, Speech and Mind
at Khandroling, the Land of the Dakinis, Buckland, MA.
Friday afternoon July 8 - Friday July 15, 2022
This retreat is in-person only.
We're looking forward to gathering again this summer, to reconnect with each other and practice the precious teachings of our beloved teacher, Chögyal Namkhai Norbu Rinpoche.

We invite you to stay the weekend following (July 16 & 17) for Vajra Dance practices. Practices will be in the morning and afternoon at times agreed among the participants.
This year will be different in that we will not have multiple programming options at the same time; we will have continuous programming in the Vajra Hall encompassing yantra yoga, vajra dance, practices and talks suitable for newcomers and experienced practitioners. Please view the DRAFT schedule for more information.
If you are not an IDC (International Dzogchen Community) member and have not received transmission from Chögyal Namkhai Norbu or Yeshi Silvano Namkhai, you are welcome to join us if you genuine interest in these precious teachings. Please note that certain practices may be restricted to those with transmission. There will be opportunity to practice the Vajra Dance that Benefits Beings (if you have taken a course), meditation practices, and possibly Yantra Yoga. More details will be available as the schedule solidifies. $150 for newcomers or you can pay based on your activity during retreat.
Registration!
To register fill out this form and proceed to payment link below.
Registration helps us plan and we appreciate you doing this as soon as possible. There is also an incentive to register before June 1. While it is impossible to know how the pandemic will affect our lives, we will be outside on a hilltop and we encourage everyone to take whatever measures you deem right for you to stay healthy.
Payment can be made by clicking buttons below (preferred) or in-person. If you've already paid, Please make sure you fill out the registration form (google form) in addition. Thank you!
Choose your payment option:
This is our main event of the year and we are grateful for your support to help sustain our Gar. If you have the financial possibility to donate more than the suggested amount, we are very appreciative. If you are unable to pay the entire amount, please offer what is appropriate for you.
The fee does not include Food or housing.
Lunch? There will be opportunities to make online orders for lunch and someone will be bringing to land from one restaurant per day. You can bring your own food, or possibly prepare at pond kitchen.
Need a place to stay? Local and community accommodations are listed on our accommodations page. Booking up fast! Camping is available and will require advanced reservation in order to be aware of numbers. There are still a few beds left at the Schoolhouse dormitory in Conway (if you are vaccinated). Please contact accommodations@tsegyalgar.org to make a request.
Auction and Raffle: If you have items you would like to donate to our auction and raffle please e-mail yellowgakyil@tsegyalgar.org
Available for karma yoga before, during, or after the retreat? Work on our precious Khandroling for a month, a week, or a day in exchange for free or discounted accommodations. To inquire about Karma Yoga please email David Hayes at dfhayes28@yahoo.com and thank you!
We're excited to see you soon!
Any questions, please email Mark at programs@tsegyalgar.org
---