---
Date: July 8th-15th, 2022.
---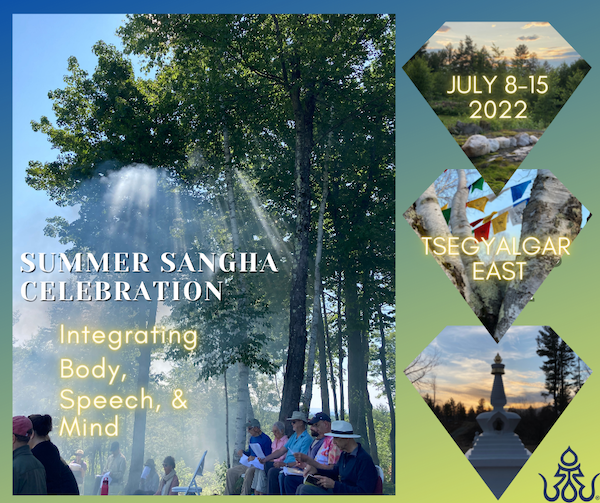 Join us at the Land of the Dakinis, Buckland, MA
Friday afternoon July 8 - Friday July 15
Schedule includes: Replay of 2014 Chögyal Namkhai Norbu Retreat*,
and Yantra Yoga, Vajra Dancing, Teaching and Practicing Together
SCHEDULE (subject to change) for the retreat.
Update! Chögyal Namkhai Norbu Retreat Recording: The Four Dharmas of Longchenpa, complete teaching from 2014 at Tsegyalgar East (Not available on Zoom)
*This practice retreat is open to everyone; we hope anyone without transmission with a sincere interest in these teachings will receive transmission when it is available. Newcomers, please plan to attend entire portion of recorded teachings - as it is a complete retreat and teachings are consecutive. Replay sessions will be followed by discussion and instruction. These sessions, led by Santi Maha Sangha instructor Lynn Newdome, will expand on each days' teachings to continue to lay a foundation of Dzogchen.
All the teachings will be in an open air environment in the very spacious Vajra Hall. We encourage everyone to take whatever measures you deem right for you to stay healthy.
We invite you to stay the weekend following (July 16 & 17) for Vajra Dance practices. Practices will be in the morning and afternoon at times agreed among the participants.
Registration
Fill out the Registration Form and proceed to payment link below
Costs
Everyone welcome! This is our main event of the year and we are grateful for your support to help sustain our Gar.
Lunch
Lunch orders must be in by July 1 at 4pm. You can also bring your own food, or possibly prepare at the pond kitchen.
Need a place to stay?
Local and community accommodations are listed on our accommodations page. Booking up fast! Camping is available and will require advanced reservation in order to be aware of numbers. There are still a few beds left at the Schoolhouse dormitory in Conway (if you are vaccinated). Please contact accommodations@tsegyalgar.org to make a request.
Available for karma yoga before, during and after the retreat?
Work on our precious Khandroling for a month, a week, or a day in exchange for free or discounted accommodations. To inquire about Karma Yoga please email David Hayes at dfhayes28@yahoo.com and thank you!
We especially need Tech Support, can you help? If so email, programs@tsegyalgar.org
Auction
If you have items you'd like to donate to our auction and raffle please e-mail yellowgakyil@tsegyalgar.org
We're excited to see you soon!
Any questions, please email Mark at programs@tsegyalgar.org
---