---
Date: October 13th, 2021, including 9/25/21, 9/26/21.
Time: 3:30 PM to 4:30 PM
---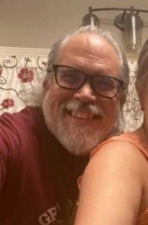 ---
Jim Trucano-Harp - a long-time community member and devoted student of Chögyal Namkhai Norbu Rinpoche and Sogyal Rinpoche, died Wednesday 9/22/21 at 12:42pm ET of a heart-attack. He was visiting Tsegyalgar East with his wife Laura since early September.
We are deeply saddened and shocked to hear of our Vajra brother's sudden passing.
Please join us in practicing Shitro for Jim:
Wednesday, Oct 13th (21st day) and November 10th (49th day)
via Zoom - Tsegyalgar East Collective Practice Link
Jim's wife, Laura has requested people use this email address (
PeacefulDragonRemembered@gmail.com
) if they'd like to send remembrances of their interactions with Jim (or have any questions.) She'd love to hear their memories of Jim and share them with their 24 yr old son & 22 yr old daughter.
A Memorial Service will be planned for the late Spring or early Summer.
---
The following resources are available at the Shang Shung USA Bookstore:*
---