---
Date: February 15th-24th, 2012.
Location: Schoolhouse Gonpa
Contact: secretary@shangshung.org or 413-369-4928
---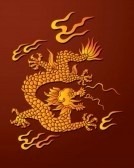 ---
Losar Year of the Water Dragon Community Celebration Come and celebrate Losar, as the Sangha welcomes the Year of the Water Dragon. Sewing Party Hosted over several days at the Schoolhouse, on or about February 15th - 18th. This pre-festival activity will sure to be rich with laughter, song and good cheer. Community volunteers will prepare the Lungta flags that signal the year-long blessing of the land that is so dear to us all, and which affords our community the much needed support for its continuation.
Monday, February 20th Gather together for Divination Soup. This event requires an RSVP by February 16th to: geko@tsegyelgar.org.
The party will begin with a special practice. Then, everyone will share in the fortune telling event. Divination Soup contains specially prepared dumplings (like gnocchi), each with a special ingredient. The meanings attributed to the qualities of these special flavors will be divulged to participating guests, and act as the up-and coming year's divination for its recipient.
Also on this day, cleaning is recommended. The preceding days or weeks before Losar are traditionally devoted to cleaning and clearing all that which is no longer useful or beneficial to a household. It is best if all trash is disposed of before the 22nd; traditionally, no trash should be handled throughout Losar.
This year, Losar will be through the 25th.
Tuesday, February 21st New Year's Eve Please join us in the Gompa in observing this special New Moon Ganapuja at 7:30 PM
Wednesday, February 22nd Losar Day Long-Life Practice will be held in the Gompa from 6-7:00AM. Then, in the evening, at 6:00PM, all are invited to a potluck dinner, followed by a rousing game of chance: Bagchen.
Thursday, February 23rd Long-Life Practice from 7-8:00AM
Sang Ceremony (smoke ritual)8-8:30AM
Lung-ta The raising of the prayer-flags: 9:00AM-12:00PM, beginning at the Schoolhouse, and continuing on to Rinpoche' s House and its surroundings, and the entry to Khandroling.
Friday and Saturday, February 24th & 25th The last days of Losar are traditionally spent with family and friends. This is the perfect time to intimately rest and reflect among those you love.
Please feel free to come by the Schoolhouse to say hello. There will be hot water waiting for you, if you would like to share some tea. And as always, a light is left on in anticipation of your arrival. Wishing you all a Happy New Year!
---