---
Date: February 14th-18th, 2018.
---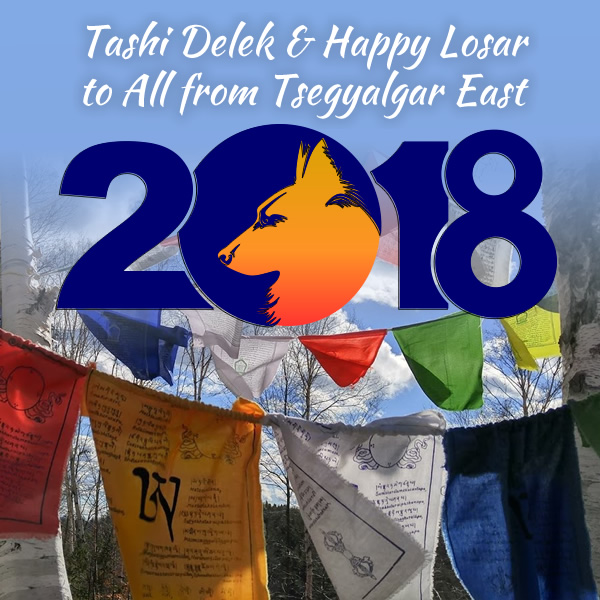 ---
Wednesday February 14th thru Sunday February 18th
Tsegyalgar East Schoolhouse Gonpa
Losar, the Tibetan New Year by Dr. Phuntsog Wangmo
Wednesday, February 14th
2pm: Divination Soup Preparation - please come help!
5pm: Small Fire Puja - for burning old Lungtas, old Namkhas and Kyped-pa Zhi-dan (colorful shirts and clothing items with protection mantras for the year)
6pm: "Gu-thug" Divination Soup - Please RSVP to bluegakyil@tsegyalgar.org by February 12, if you are planning to attend Divination Soup, so we know how many dumplings to prepare. Please donate toward soup ingredients Click to Donate.
Thursday, February 15th
5pm - 5:30pm Review of Dance of the Vajra that Benefits Beings
5:30pm-6:30pm Practice of Dance of the Vajra that Benefits Beings
Friday, February 16th - LOSAR
5:30pm Khaita followed by potluck dinner, Pagchen and Game of Liberation
Saturday, February 17th
10am-10:30am Clarification on how to participate in the 24hr mantra recitation in Jyagyip -Webcast from Damling Gar (projected in Gonpa)

**

10:30am-11am Explanation of melody and mudra of Mandala offering led by Steven Landsberg - Webcast from Damling Gar (projected in Gonpa)**

Sunday, February 18th
6:45am Lungta Raising begins at dawn and continues throughout the day. We need strong volunteers to help set up ladders and hang Lungta. Please contact redgakyil@tsegyalgar.org
Potluck breakfast in kitchen for early risers
11am-12pm Vajra Dance Tun
**Losar and Mandarava Drubchen practices and activities from Dzamling Gar to be projected when possible.
For questions or comments please contact: bluegakyil@tsegyalgar.org
---