---
Date: August 2nd, 2020, including 08/03/20.
---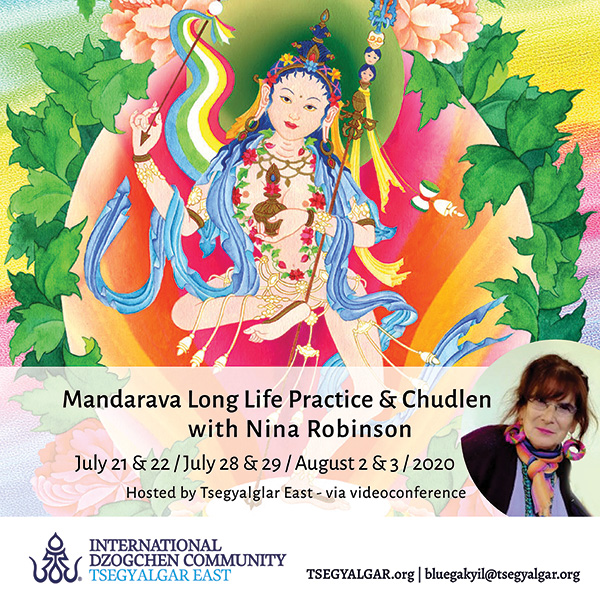 via Zoom videoconference
The videoconference link will be emailed to registrants one day prior to the retreat.
Spanish & Russian translation channels available. For other language translation needs please contact bluegakyil@tsegyalgar.org
Dates / Times
Tuesday, July 21 from 12:00pm to 2:00pm (ET)
Wednesday, July 22 from 10:00am to 12:00pm (ET)
Tuesday, July 28 from 12:00pm to 2:00pm (ET)
Wednesday, July 29 from 10:00am to 12:00pm (ET)
Sunday, August 2 from 10:00am to 12:00pm (ET)
Monday, with Mandarava Ganapuja - August 3 from 10:00am to 12:00pm (ET)
All times are Eastern Time (ET - NYC)
Check your timezone: https://www.worldtimebuddy.com/
This retreat is only for IDC members who have received the lung of Mandarava from Chögyal Namkai Norbu.
Cost: $125/complete course - Contact bluegakyil@tsegyalgar.org if you want to attend on a per day basis.
REGISTER/PAY ONLINE
We ask that all participants register for courses/practice retreats regardless if online connections are shared. If you are an IDC member and need financial assistance please contact bluegakyil@tsegyalgar.org. No one will be turned away thanks to the principle of sponsorship.
---
Support Tsegyalgar East, or your local Gar or Ling, by joining or rejoining the International Dzogchen Community (IDC) in 2020. Your membership benefits your Gar/Ling of choice, and enables you to support our global community as you participate in online weekly programs/courses/practice retreats.
Please consider supporting the Tsegyalgar East Sponsorship Program.
With gratitude,
Tsegyalgar East Gakyil
---
Mandarava Long Life Practice & Chudlen
Long life practices are especially important to co-ordinate and strengthen our energy, which result in a longer and more harmonious life.

"The practice of Mandarava is a path for having total realization and also relatively for having a longer life and prosperity. But the main point is to attain realization of the state of Mandarava. Mandarava is a totally realized being and so we follow this path." Chögyal Namkhai Norbu
This practice is a discovered Terma of Chögyal Namkhai Norbu which he received during a series of dreams in the Maratika cave, Nepal and other locations.
Course Structure: First hour explanation; second hour practice: Long Mandarava with Chudlen. Later sessions may include a Tsalung or two.
---
Nina Robinson Nina Robinson was born in England in 1937. She met Chögyal Namkhai Norbu in 1980 and followed many of his teachings and practice retreats from that time until the present day.
Nina is authorized by Chögyal Namkhai Norbu to teach Mandarava and has led various retreats in many parts of the world.
---