---
Date: August 29th, 2020.
Time: 5:45 PM to 7:15 PM
---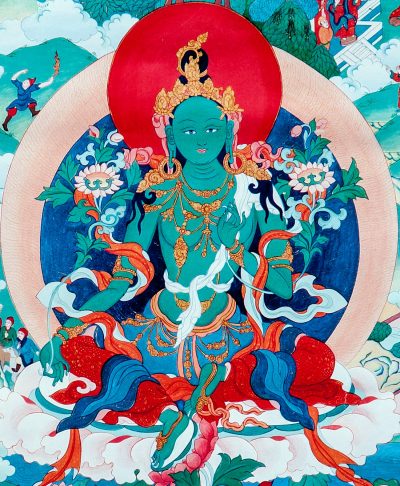 ---
---
Date: Saturday, August 29, 2020
Time: 5:45pm-7:15pm (ET - Eastern Time - NYC)
Check your time zone: https://www.timeanddate.com/worldclock/converter.html
Join Tsegyalgar East via videoconference for Green Tara Practice.
In order not to break the chain, it is necessary to start at least 10 minutes before the established time of registration (9 breathings, Purification of the 5 elements and Refuge & Bodhichitta). Then we sound TAM and we manifest as TARA, and we do the recitation of the universal mantra: OM TARE TUTTARE TURE SVAHA, for 65 minutes. Finally, we continue with the Song of Vajra and Dedications.
During recitation, while we have the mantra turning, one should keep the presence doing trondü (from TAM infinite lights go out in all directions, inviting all the power and wisdom of all realised ones, and receiving all the light, you unify it in you). Please, do this without counting the quantity of mantras you are doing.
---
***The Zoom videoconference link has been emailed to Tsegyalgar East members. It is also included in our Sangha App event listings. If you an IDC member and have not received the Zoom link or do not have access to the Sangha App please email: bluegakyil@tsegyalgar.org***
---
Support Tsegyalgar East, or your local Gar or Ling, by joining or rejoining the International Dzogchen Community (IDC) in 2020. Your membership benefits your Gar/Ling of choice, and enables you to support our global community as you participate in online weekly programs/courses/practice retreats.
Please donate to Tsegyalgar East Online Programs, remember each Gar and Ling is responsible for the different programs you participate in!
---
The following resources are available at the Shang Shung USA Bookstore:*
*Reserved items are materials intended for the Dzogchen Community. In order to purchase this item one must be a current member of the Dzogchen Community, and must have received Transmission for the specific practice.
---