---
Date: January 9th-10th, 2021.
Time: 11:30 AM
---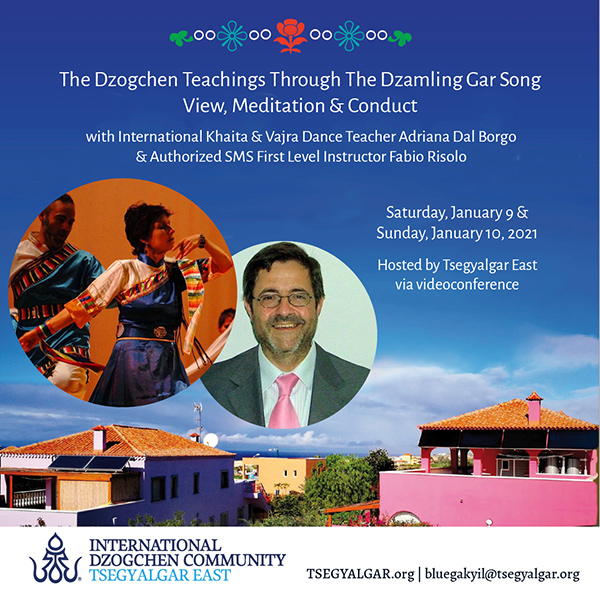 ---
---
Date: Saturday, January 9 & Sunday, January 10, 2021
Time: Saturday, 11:30am-1:30pm & Sunday, 11:30am-2:00pm ET - NYC time
via Zoom videoconference
The videoconference link will be emailed one day prior to the event.
Time zone converter: https://www.worldtimebuddy.com/
This course is taught in English. For language translation needs please contact bluegakyil@tsegyalgar.org.
Open to members of the International Dzogchen Community (IDC).
We ask that all participants register for courses/practice retreats, regardless if online connections are shared.
Fee: $50/complete course
REGISTER/PAY ONLINE
If you are an IDC member who needs financial assistance please contact bluegakyil@tsegyalgar.org. No one will be turned away thanks to the principle of sponsorship.
Please consider supporting the Tsegyalgar East Sponsorship Program.
---
About the course:
"You try to understand a little, I wrote the Dzamling Gar song. Do not think that there is just a Gar here where we are singing and dancing, but try to understand a little what it is saying. First of all our Santi Maha Sangha teachers, Yantra Yoga teachers and Vajra Dance teachers and all kind of teachers need to apply seriously what is said in Dzamling Gar song, then you become really good teachers. I am not writing a nice song for only for singing and for its melody; I wrote this Dzamling Gar song for our future, to show the direction we are taking, what we do, which is our responsibility, how we can contribute to sentient beings, human beings, particularly on this globe" Chögyal Namkhai Norbu – Dzamling Gar, February 2014
We will learn from Rinpoche's words, and from Adriana Dal Borgo's direct testimonial, regarding the Dzamling Gar song's origin. We will hear how Rinpoche composed the music and wrote the lyrics, and how he asked us to apply the principles of the song to the dance.
Fabio Risolo will speak about the deep meaning of the song, and how it beautifully expresses the essence of the Dzogchen Teaching, and the advice it gives on the future of the Dzogchen Community.
Adriana Dal Borgo was born in Venice, Italy and has a degree in psychology. Adriana met Chögyal Namkhai Norbu in 1986, with whom she studied Vajra Dance and later Khaita Joyful Dances.
In 1992, Rinpoche appointed Adriana as one of the two main Vajra Dance international teachers of the International Dzogchen Community (IDC). She was tasked with both teaching and coordinating activities related to this discipline at the various IDC centers. Adriana has taught numerous courses, and trained new teachers worldwide, helping students to discover the joy and deep meaning of Vajra Dance.
Adriana is also active as a Khaita dancer and choreographer, and since 2011 she travels worldwide teaching Khaita Joyful Dances workshops, offering teacher training courses, and organizing Khaita Joyful Dances events and performances. Adriana has overseen several publications and the production of videos that center on the different aspects of the dances.
Fabio Risolo was born in Italy and holds a degree in Philosophy from the University of Naples, and he has taught both at the high school and university levels. Fabio became a student of the Tibetan Master Chögyal Namkhai Norbu in 1999, and has actively practiced and followed the Dzogchen Teachings since that time.
Fabio became an authorized Santi Maha Sangha (SMS) Base Level instructor in 2004 and a First Level SMS Instructor in 2009. He has led numerous courses in Italy and throughout Europe.
Fabio Risolo is also the editor of three teaching volumes of Chögyal Namkhai Norbu: Guruyoga (2011); Shine and Lhagthong in Dzogchen Teaching (2013); and A small glossary for the Dzogchen Community (2012).
---
Support Tsegyalgar East, or your local Gar or Ling, by joining or rejoining the International Dzogchen Community (IDC) in 2020. Your membership benefits your Gar/Ling of choice, and enables you to support our global community as you participate in online weekly programs/courses/practice retreats.
Please consider supporting the Tsegyalgar East Sponsorship Program.
With gratitude,
Tsegyalgar East Gakyil
---
The following resource is available at the Shang Shung USA Bookstore:
Dzamling Gar Song by Chogyal Namkhai Norbu
---