---
Date: January 21st, 2021.
Time: 3:00 PM to 4:30 PM
---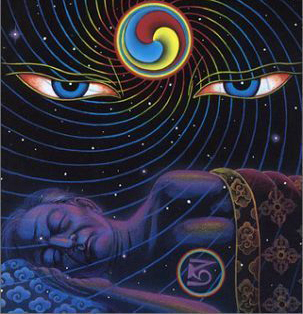 ---
---
Dream Yoga Practice with an induction for lucid dreaming with authorized Santi Maha Sangha (SMS) instructor Michael Katz
Thursday, January 21, 2021 at 3:00pm-4:30pm (ET - Eastern Time NYC)
via Zoom videoconference
Time converter: https://www.worldtimebuddy.com/
This month's practice is Transmission based, open to members of the International Dzogchen Community (IDC).
French, Italian, Portuguese, Russian, and Spanish language translation channels available. If you'd like to request an additional language, please contact bluegakyil@tsegyalgar.org.
***The Zoom videoconference link has been emailed to IDC members. It is also included in our Sangha App event listings. If you are an IDC member and have not received the Zoom link or do not have access to the Sangha App please email: bluegakyil@tsegyalgar.org***
---
Support Tsegyalgar East, or your local Gar or Ling, by joining or rejoining the International Dzogchen Community (IDC) in 2021. Your membership benefits your Gar/Ling of choice, and enables you to support our global community as you participate in online weekly programs/courses/practice retreats.
Please donate to Tsegyalgar East Online Programs, remember each Gar and Ling is responsible for the different programs you participate in!
With gratitude,
Tsegyalgar East Gakyil
---
Michael Katz Psychologist, artist, and author has a doctoral degree in psychology from New York University. He is a long time student of Tibetan Buddhism and has studied with many of the great masters of this age.
He is the co-author and editor of the book "Dream Yoga and the Practice of Natural Light" with Chogyal Namkhai Norbu. He is also the author of the book "Tibetan Dream Yoga the Royal Road to Enlightenment" as well as the fictional novel "The White Dolphin".
Michael is a Santi Maha Sangha (SMS) instructor in the Dzogchen Community was authorized to teach dream yoga and meditation by Chogyal Namkhai Norbu. He has taught dream yoga for two decades in more than 30 countries internationally as well as Harvard University, Amherst College, Tibet House, and other institutions and organizations.
He was featured in the discovery channel's program "The Power of Dreams" and was a featured speaker at the first Gateways of the Mind conference in London. He was also featured in a documentary movie called "Tamara's Sacred Journey" after leading a group to sacred caves in Tibet in 2010. His paintings were the subject of a one-person show at Tibet house called "Form Is Emptiness" in 2013.
---
Suggested reading available at Shang Shung Institute USA Bookstore:
---