---
Date: May 2nd, 2021, including 05/16/21.
Time: 11:00 AM to 2:00 PM
---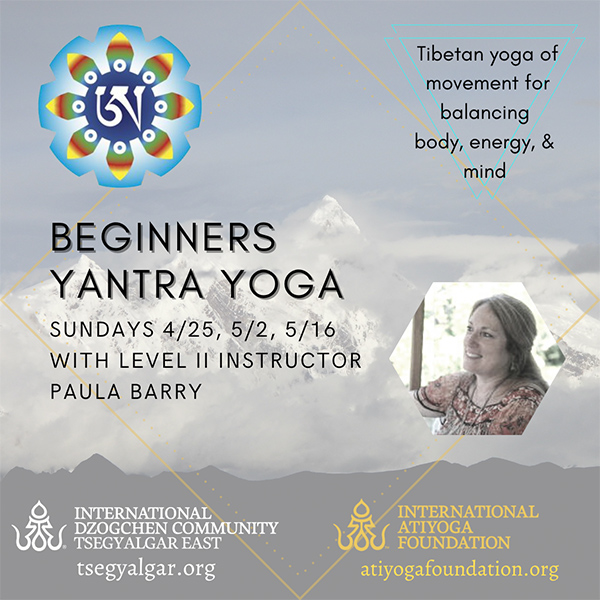 ---
---
What is Yantra Yoga?
Yantra Yoga aims to balance the three aspects of the body, energy, and mind through breath, movement and concentration.
This Tibetan Yoga of Movement has been passed down through an unbroken lineage from teacher to student since the 8th century. This practice helps us to relax and achieve a state of well-being and harmony, at the same time enhancing physical health, energy, and mental balance.
Yantra Yoga differs from more widespread yogas in that it is done as a sequence of movements coordinated with breathing and specific ways of holding. It is a dynamic system of trulkhor (movements) and tsalung (pranayamas), and can also be a complete path toward total liberation.
Beginner's Yantra Yoga Course
We'll meet over three Sundays on Zoom:
April 25, May 2, and May 16, from 11:00am-2:00pm ET NYC Time
Check your time zone:
https://www.timeanddate.com/worldclock/converter.html
This course, hosted by International Dzogchen Community Tsegyalgar East,
is ONLINE, and Open to All!
Taught by authorized Yantra Yoga Level Level II instructor Paula Barry
Appropriate for newcomers or as a refresher course for those who wish to deepen their experience. Modifications will be offered.
We will cover:
Overview of the history and structure of Yantra Yoga
Essential 3 series of Preliminary exercises
9 Breathings for Exhaling the Stale Air
Loosening the Joints (Tsigjong)
Purifying the Prana or the 8 Movements (Lungsang).
Controlling the Channels (Tsadul) with its its associated Pranayama (breathing exercise)
The Yantras of the First Series
Following this course, you will be able to join in one of Paula's weekly classes held online, as well as other Beginner Yantra Yoga classes offered by International Dzogchen Community Instructors.
REGISTRATION NOW CLOSED
Please prepare to participate for the entire course. Each session will build upon the previous. If desired, we will add an additional class date.
Course income supports and sustains Tsegyalgar East. Our courses are based on generosity. If you have the financial possibility to donate more than the suggested amount, we are very appreciative. If you have financial difficulty, it will not be an obstacle to participation or If PayPal is not working for you, please email bluegakyil@tsegyalgar.org.
For further study, you can purchase these books on Shang Shung Institute USA Bookstore:
Tibetan Yoga of Movement: The Art and Practice of Yantra Yoga 2013
Yantra Yoga: The Tibetan Yoga of Movement 2008
Healing with Yantra Yoga: From Tibetan Medicine to the Subtle Body 2016
DVD Tibetan Yoga of Movement: Perfect Rhythm of Life LEVEL ONE
DVD Tibetan Yoga of Movement: Perfect Rhythm of Life LEVEL TWO
---