---
Dates: Starts on October 2nd, 2023 and occurs every month on the first,third Monday of the month until December 18th, 2023
Time: 12:00 PM to 1:00 PM
---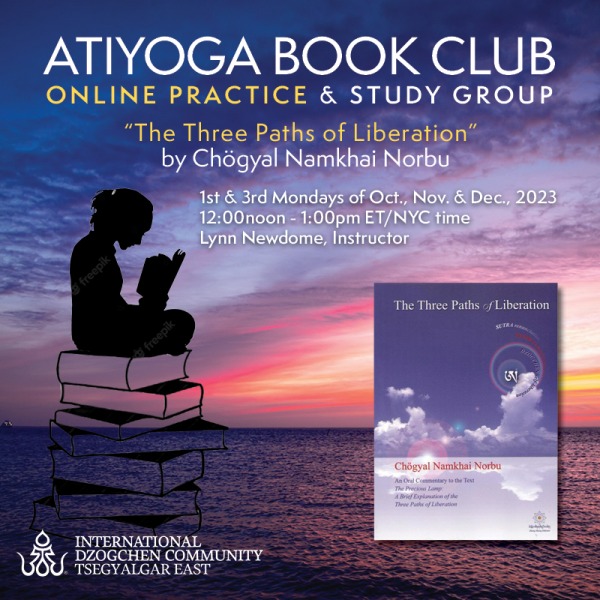 ---
1st & 3rd Mondays of Oct., Nov. & Dec., 2023
12:00noon - 1:00pm ET - New York City Time
plus (optional) discussion until 1:30pm
Lynn Newdome, Instructor
It's not too late to join!!!
Registrants have access to the video replay for two weeks prior to the next session.
This program is especially intended for new practitioners who've recently received transmission. It's open to anyone who has received transmission from Chögyal Namkhai Norbu or Yeshi Namkhai, and also to those with a serious commitment to receive transmission when it's again offered.
The course will explore the first two sections of The Three Paths of Liberation, on the foundations of the path, and Sutra, Tantra and Dzogchen along with short Dzogchen meditation and discussion of participants' experiences.
Lynn Newdome has been an authorized Santi Maha Sangha Instructor since 2015, a student of Chögyal Namkhai Norbu since 1999, and has studied Tibetan Buddhism since 1974 Lynn lives near Tsegyalgar East and is a professional violinist.
---
The Three Paths of Liberation is a "Reserved" book, available to those with transmission and/or members of the Dzogchen Community.
Participants must join with video to enhance the live aspect of these meetings.
Suggested Donation:
$40 Full Course or $10/Per Session
DONATE HERE>>
Reduced donations for hardship are available. Please contact gakyil@tsegyalgar.org
---