---
Date: February 26th, 2022.
Time: 1:30 PM to 2:30 PM
---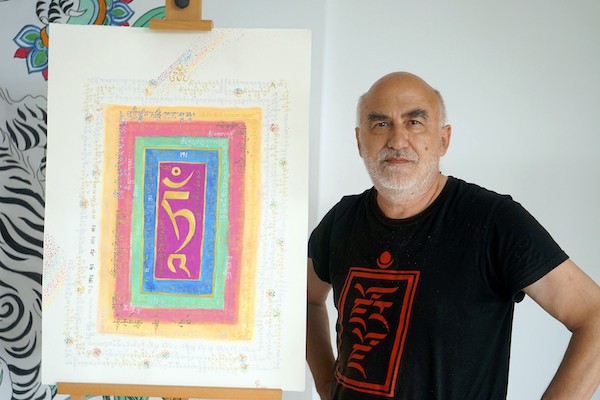 An Afternoon with the Calligrapher:
Giorgio Dallorto's recent works
Saturday, February 26th at 1:30pm EST, via ZOOM
(6:30pm Dzamling Gar, 7:30pm Merigar West)
Giorgio Dallorto is a longtime member of the Dzogchen Community who has been producing beautiful Tibetan Calligraphies honoring the legacy of Chögyal Namkhai Norbu and his Teachings over the last decade. During this afternoon talk, Giorgio will show and explain the meaning behind several of his more recent artistic works.
He has donated one of these works to Tsegyalgar East, one of Chögyal Namkhai Norbu's main spiritual seats in North America, for fundraising, and prints of selected works will also be available for purchase in the Shang Shung Institute - USA bookstore. There will be time for Q&A at the end of the presentation, so prepare your questions for the artist!
Zoom link: sent via email and on website with log-in under "Tsegyalgar East" Tab --> Weekly practices
ABOUT GIORGIO DALLORTO
Giorgio Dallorto was born in Piedmont, Italy in 1953. He was first drawn to Tibetan Buddhism and Himalayan culture due to an interest in Hatha Yoga at the age of twenty-two. This eventually brought him to meet his root teacher, Chögyal Namkhai Norbu, in the summer of 1978. After a few years traveling India and Nepal, visiting the main Tibetan settlements and deepening his knowledge, he started to collaborate extensively with the International Dzogchen Community, working for Merigar West in many different roles: gakyil member, gekö, manager of the Merishop, consultant for the Shang Shung Institute of Tibetan Studies, etc.
Over the last twenty years Dallorto has dedicated himself in a free and independent way to an in-depth study of Tibetan history and culture and in particular the arts. He has studied Tibetan language under the direction of Prof. Fabian Sanders giving particular attention to the different styles of Tibetan calligraphy, as well as following many courses of Tibetan calligraphy, both Uchen and Umed, led by the well-known artist and calligrapher Tashi Mannox.
Giorgio has also collaborated with Migmar Tsering, the Tibetan artist based at Merigar West, in the realization of the Mandalas inside the cinerary at the Gar, situated in Tuscany, Italy. In recent years he has completely dedicated himself to artistic works reflecting both our Western artistic heritage as well as to the traditional art of Tibet.
---