---
Date: July 20th-28th, 2019.
---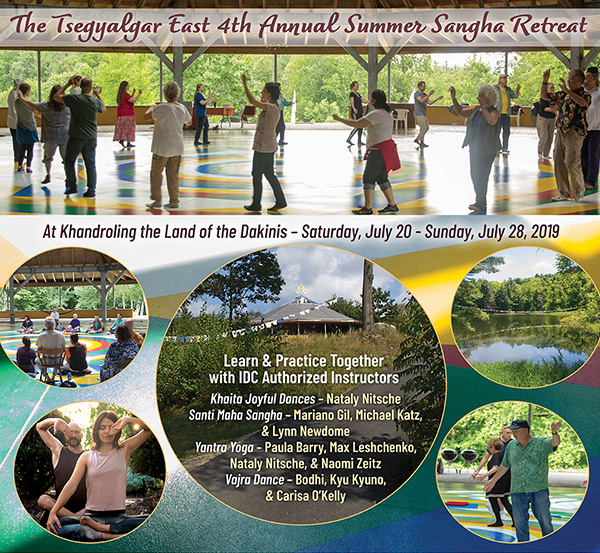 ---
---
Dear Vajra Family,
We look forward to seeing you at Khandroling this summer!
If you have any items that you would be willing to donate to the auction, please let us know by emailing gakyil@tsegyalgar.org.
Come practice with us for however long you can, enjoy each other's company, along with good food, and more.
Thank you,
Tsegyalgar East Gakyil
---
Come practice with us this summer at Khandroling, Buckland, Massachusetts, USA
Saturday, July 20 - Sunday, July 28, 2019
Save the dates, we await you!
Learn and practice along with the following authorized International Dzogchen Community (IDC) instructors:
Khaita Joyful Dance instructor: Nataly Nitsche
Santi Maha Sangha (SMS) instructors: Mariano Gil, Michael Katz and Lynn Newdome
Vajra Dance instructors: Bodhi, Kyu Kyuno and Carisa O'Kelly
Yantra Yoga instructors: Paula Barry, Max Leshchenko, Nataly Nitsche and Naomi Zeitz
In addition to our practice sessions, there will be a number of activities including lunch time talks with Ãcãrya Malcolm Smith and Menpa Phuntsog Wangmo, Green Tara project presentation and lotus Origami workshop with Amanda Pollock, Community meeting, and chair massage with Yeshe Tsomo.
The Summer Sangha Retreat is open to those with transmission.
Reserve today, or simply show your support. Your $50 deposit helps fund the retreat and sustain our Gar's programs.
Learn More>>
If you need financial assistance, wish to apply for work exchange, and/or volunteer for Karma Yoga, and are an IDC member, please contact bluegakyil@tsegyalgar.org.
Please consider giving a donation to the Sponsorship Program.
---
DAILY SCHEDULE
---
Saturday, July 20, 2019
2:00pm-3:30pm: Meet & Greet/Registration

3:30pm-5:30pm: Medium Thun explanation and practice with Mariano Gil

6:00pm-7:00pm: Khaita

7:30pm-8:30pm: Vajra Dance Thun
Sunday, July 21, 2019
8:00am-8:30am: Registration

8:30am-9:30am: Collective Practice - Guru Yoga of the White A

10:00am-12:00pm: Yantra Yoga for Beginners, and Intermediate Yantra Yoga with Pranayamas (must have experience with preliminaries) with Paula Barry, Max Leshchenko, Nataly Nitsche and Naomi Zeitz

12:00pm-2:00pm: Lunch & Registration

12:30pm-1:30pm: Lunch Talk - Origin of Delusion with Ãcãrya Malcolm Smith

2:00pm-4:00pm: Green Tara Explanation and Practice with Michael Katz

4:15pm-5:45pm: Introduction to Vajra Dance with Bodhi, Kyu Kyuno and Carisa O'Kelly


*

Starting with Vajra Dance of the Four Contemplations (first verse of the Dance of the Song of the Vajra)

6:15pm-7:45pm: Khaita with Nataly Nitsche

8:00pm: Chöd Practice
Monday, July 22, 2019
8:00am-8:30am: Registration

8:30am-9:30am: Collective Practice - 25 Spaces/Vajrasattva

10:00am-12:00pm: Yantra Yoga for Beginners, and Intermediate Yantra Yoga with Pranayamas (must have experience with preliminaries) with Paula Barry, Max Leshchenko, Nataly Nitsche and Naomi Zeitz

12:00pm-2:00pm: Lunch and Registration

12:00pm-2:00pm: Chair Massage with Yeshe Tsomo

12:15pm-1:15pm: Vajra Dance Thun

2:00pm-4:00pm: Deepening our understanding of the Song of the Vajra with Mariano Gil




**

Deepening our understanding of the Song of the Vajra - Learn proper timing and melody, overview of meaning and related practices.

4:15pm-5:45pm: Introduction to Vajra Dance with Bodhi, Kyu Kyuno and Carisa O'Kelly

*

6:15pm-7:45pm: Khaita with Nataly Nitsche

8:00pm: Guardian Practice
Tuesday, July 23, 2019
8:00am-8:30am: Registration

8:30am-9:30am: Collective Practice - Green Tara

10:00am-12:00pm: Yantra Yoga for Beginners, and Intermediate Yantra Yoga with Pranayamas (must have experience with preliminaries) with Paula Barry, Max Leshchenko, Nataly Nitsche and Naomi Zeitz

12:00pm-2:00pm: Lunch and Registration

12:00pm-2:00pm: Chair Massage with Yeshe Tsomo

12:15pm-1:15pm: Vajra Dance Thun

2:00pm-4:00pm: Rediscovering Shine and Bodhisattva practices from the Base with Lynn Newdome

4:15pm-5:45pm: Introduction to Vajra Dance with Bodhi, Kyu Kyuno and Carisa O'Kelly

*

6:15pm-7:45pm: Khaita with Nataly Nitsche

8:00pm: Chöd
Wednesday, July 24, 2019
8:00am-8:30am: Registration

8:30am-9:30am: Collective Practice - Guru Yoga of the White A

10:00am-12:00pm: Yantra Yoga for Beginners, and Intermediate Yantra Yoga with Pranayamas (must have experience with preliminaries) with Paula Barry, Max Leshchenko, Nataly Nitsche and Naomi Zeitz

12:00pm-2:00pm: Lunch and Registration

12:30pm-1:30pm: COMMUNITY MEETING at the Vajra Hall

2:00pm-4:00pm: 7th Lojong with Mariano Gil and Max Leshchenko

4:15pm-5:45pm: Introduction to Vajra Dance with Bodhi, Kyu Kyuno and Carisa O'Kelly

*

6:15pm-7:45pm: Khaita with Nataly Nitsche

8:00pm: Guardian Practice
Thursday, July 25, 2019
8:00am-8:30am: Registration

8:30am-9:30am: Collective Practice - 25 Spaces/Vajrasattva

10:00am-12:00pm: Yantra Yoga for Beginners, and Intermediate Yantra Yoga with Pranayamas (must have experience with preliminaries) with Paula Barry, Max Leshchenko, Nataly Nitsche and Naomi Zeitz

12:00pm-2:00pm: Lunch and Registration

12:00pm-2:00pm: Chair Massage with Yeshe Tsomo
12:15pm-1:15pm: Vajra Dance Thun


12:30pm-1:30pm: Green Tara Portrait Project - demo with Amanda Pollock from Khandroling Paper Coop

2:00pm-4:00pm: Rediscovering Shine and Bodhisattva practices from the Base with Lynn Newdome

4:15pm-5:45pm: Introduction to Vajra Dance with Bodhi, Kyu Kyuno and Carisa O'Kelly

*

6:15pm-7:45pm: Khaita with Nataly Nitsche

8:00pm: Chöd
Friday, July 26, 2019
8:00am-8:30am: Registration

8:30am-9:30am: Collective Practice - Green Tara

10:00am-12:00pm: Yantra Yoga for Beginners, and Intermediate Yantra Yoga with Pranayamas (need to have experience with preliminaries) with Paula Barry, Max Leshchenko, Nataly Nitsche and Naomi Zeitz

12:00pm-2:00pm: Lunch and Registration

12:00pm-2:00pm: Chair Massage with Yeshe Tsomo

12:15pm-1:15pm: Vajra Dance Thun

12:30pm-1:30pm: Lotus origami with Amanda Pollock from the Khandroling Paper Coop

2:00pm-4:00pm: Deepening our understanding of the Song of the Vajra with Mariano Gil

**

4:15pm-5:45pm: Introduction to Vajra Dance with Bodhi, Kyu Kyuno and Carisa O'Kelly

*

6:15pm: Barbecue - Live Auction (at Vajra Hall)
Saturday, July 27, 2019
8:00am-8:30am: Registration

8:30am-9:30am: Collective Practice - Guru Yoga of the White A

10:00am-12:00pm: Yantra Yoga for Beginners, and Intermediate Yantra Yoga with Pranayamas (need to have experience with preliminaries) with Paula Barry, Max Leshchenko, Nataly Nitsche and Naomi Zeitz

12:00pm-2:00pm: Lunch & Registration

12:30pm-1:30pm: Lunch Talk - Tibetan Medicine in Daily Life with Menpa Phuntsog Wangmo (Ping Cuowangmu)

2:00pm-4:00pm: Semdzin practices with Michael Katz

4:15pm-5:45pm: Vajra Dance of the Dimension of Space (12 As) with Bodhi, Kyu Kyuno and Carisa O'Kelly

6:00pm: Francine Bonnier's spreading of ashes
6:15pm-7:30pm: Dakini Day Ganapuja with the Dance Song of the Vajra
We will provide food. Donations welcome.


8:00pm: Musical Jam Session
Sunday, July 28, 2019
8:00am-8:30am: Registration

8:30am-9:30am: Collective Practice - Green Tara

10:00am-12:00pm: 7th Lojong with Mariano Gil and Max Leshchenko

12:30pm: Short Ganapuja with Marme Monlam
We will provide food. Donations welcome.


1:30pm: End of Retreat Karma Yoga Cleanup
---