---
Date: July 7th-15th, 2023.
---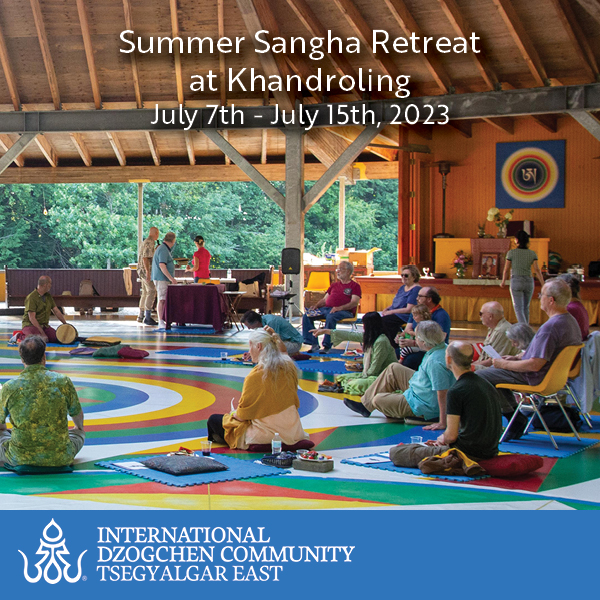 Location: Khandroling, Buckland, MA, USA
Registration, a public talk, and community dinner will kick-off the retreat on Friday July 7th. Saturday July 8th will be a special welcome to newcomers day with all practices and teachings open to the public and to those with and without transmission. Subsequent days will be offered to those with transmission or the strong intention to receive transmission when possible.
The retreat will feature a replay of Chögyal Namkhai Norbu's retreat on the "Instructions on Medjung - a tantra of Dzogchen Semde." The sessions are meant for those who have received Teachings from Chögyal Namkhai Norbu or Yeshi Silvano Namkhai, and will consist of viewing the Teachings given by Chögyal Namkhai Norbu at Merigar, from August 10th to 16th 2009. "This ancient text teaches all the essential principles of Ati Dzogchen that can be subsumed in the view without fixations, contemplation beyond concepts, and the fruit that is not obtained by treading a path. Therefore, this book contains the essence of all sutras and tantras of the Buddha's teaching, with nothing missing."
In addition to the retreat replays there will be Shitro and Medicine Buddha practice and instruction led by Dr. Phuntsog Wangmo, plus teachings and practices led by authorized instructors.
The schedule of practices include, Shine and Lhatong, Goma Devi, Mandarava, Chod, Dream Yoga, Guruyoga with the White A, Semdzin of the Song of the Vajra, Vajra Dance, and daily Yantra Yoga sessions.
For planning purposes please indicate that you are interested and expecting to attend some part of the retreat even if you are not prepared to donate at this time. We are also pursuing the ability to broadcast some of the practices and the replay of Rinpoche's retreat via Zoom for those who are not able to attend in-person. If you are interested in attending via Zoom please indicate when registering.

Register Now>>
Suggested Donation for the retreat:
$300 for entire retreat;
$150 for newcomers for the entire retreat
$40 per day (

No daily rate for the first and last day

)
$500 to sponsor the entire retreat
$150 to attend via Zoom (rather than in-person)
Reduced suggested donations for hardship are available. Please contact the Gakyil at gakyil@tsegyalgar.org
---