Tsegyalgar East Schoolhouse Accommodations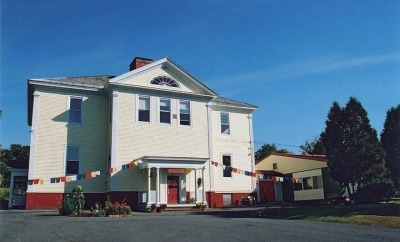 Tsegyalgar East Schoolhouse accommodations are currently unavailable due to Covid 19 pandemic.
18 Schoolhouse Rd., Conway, MA 01341
Schoolhouse Accommodations:
Includes linens, bathrooms with showers lower level, shared kitchen, shared refrigerator.
Private Room - $35/night per person (2 people max)
Dorm (front & back) - $20/night (8 beds)
Dorm - semi-private group space available under special circumstances - Contact: geko@tsegyaglar.org
**All Accommodations are available ONLY for current IDC Members. Click here to learn about membership.**
**All Accommodations are a 30 day maximum stay. For longer stays please email: gakyil@tsegyalgar.org
Once space is confirmed 50% is due at the booking and the full payment 100 % the latest, one week prior arrival.