Tsegyalgar East Schoolhouse Accommodations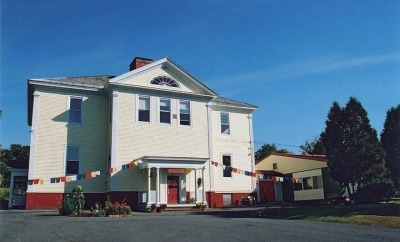 18 Schoolhouse Rd., Conway, MA 01341
Schoolhouse Accommodations:
**All Accommodations are available for current IDC Members and students of the School of Tibetan Medicine. Click here to learn about membership.**
Covid Safety Protocol: this might change depending on changing conditions: Vaccinations are required. Please send a photo of your vaccine card during booking.
Private Room - $45/night (2 private rooms total) (1 person or couple per room) Shared bathroom
Dorm (semi-private)- $35/night (8 beds)

*Due to pandemic, Limited to 4 People total- 2 person per side (divider between two sides)

For stays longer than 30 days, please contact and inquire about reduced rate.
The showers and bathroom for dorm are on the lower level of building. Limit to one person showering at a time.
Showers and bathrooms on bottom floor. Linens provided. Kitchen and shared refridgerator available.
We kindly ask guests to contribute to cleaning their space before and after their stay, and ensuring their linens are washed before leaving.
Contact: accommodations@tsegyalgar.org for booking and related questions