Camping at Khandroling this Summer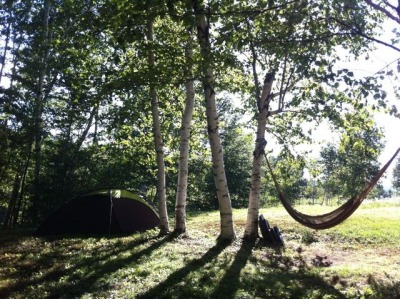 Thanks for your interest in retreat at Khandroling!
To reserve camping or for questions contact accommodations@tsegyalgar.org Sites are limited and will be issued on a first come first serve basis. You will be asked to complete an Agreement with regards to general safety while staying on the Land.
High Season: May 1st - November 1st (depending on weather conditions)
Low Season: November - April (depending on weather conditions)
Khandroling Camping Fees: $15 /per person, per night.
**All camp sites are available for current IDC Members. Click here to learn about membership.**
**All Accommodations are a 30 day maximum stay. For longer stays please email: gakyil@tsegyalgar.org
Important information to consider:
Ticks have been prevalent during the past few seasons. Tick repellent is available to use but would advise bringing your own. Make sure to wear insect repellent to protect from mosquitoes and ticks, tuck pants into socks, and check yourselves for ticks. For more information visit Mass.gov tick prevention site.
Campers will have access to the bath house and camp kitchen. Bring a cooler to keep perishable food stuffs.
The bath house has two bathrooms with running water, flushable toilets and hot showers. This water is not potable however.
Camping
When you arrive, select your own place for setting your tent up, in an open field or in the forest. Please remember to not keep food in your tent since there are bears in the area. There is a small camping kitchen space available next to the pond with 2 camping stoves in it. There is also a small gas refrigerator. Bring your own plastic boxes to store your food in so rodents do not get in it. There are many pots and pans for cooking, plates and silverware too.