Camping at Khandroling this Summer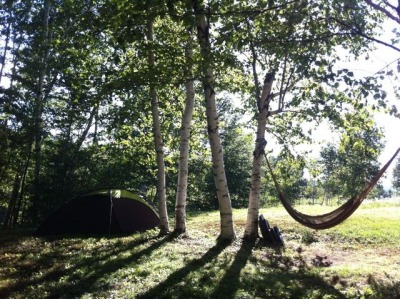 Tsegyalgar East Schoolhouse, and Khandroling retreat cabins and camping are currently unavailable due to Covid 19 pandemic.
Camping at Khadroling is available June through September. Sites are limited and will be issued on a first come first serve basis. All booking applications must be submitted to the Geko.
Khandroling Camping Fees: $15 /per person, per night - open Jun-Sept.
**All camp sites are available ONLY for current IDC Members. Click here to learn about membership.**
**All Accommodations are a 30 day maximum stay. For longer stays please email: gakyil@tsegyalgar.org
Once space is confirmed 50% is due at the booking and the full payment 100 % the latest, one week prior arrival.
Most important is that all requests must have a arrival date and a departure date, along with FULL PAYMENT FOR THE SITE.
---
Important information to consider:

There is a solar battery installed at the bath house, providing lights on the porch and in the three rooms. The middle room, has a USB port with a battery placed in the middle room with a USB port for charging phones etc., it has a device for iPhones, next to it on the shelve, are different devices for other brands.
Campers will have access to the bath house and camp kitchen. Bring a cooler to keep perishable food stuffs.

The bath house has two bathrooms with running water, flushable toilets and hot showers. This water is not potable however. The cabins are equipped with shovels and toilet paper for emergencies. There are also two five-gallon jugs of potable water in each cabin for drinking and washing.
---
Make sure to bring and wear insect repellent to protect from mosquitoes and ticks, and take the necessary precautions to check yourselves for ticks.
---
Camping
When you arrive select your own place for setting your tent up, in an open field or in the forest. Please remember to not keep food in your tent since there are bears in the area. There is a small camping kitchen space available next to the pond with 2 camping stoves in it. There is also a small gas refrigerator. Bring your own plastic boxes to store your food in so rodents do not get in it. There are many pots and pans for cooking, plates and silverware too.